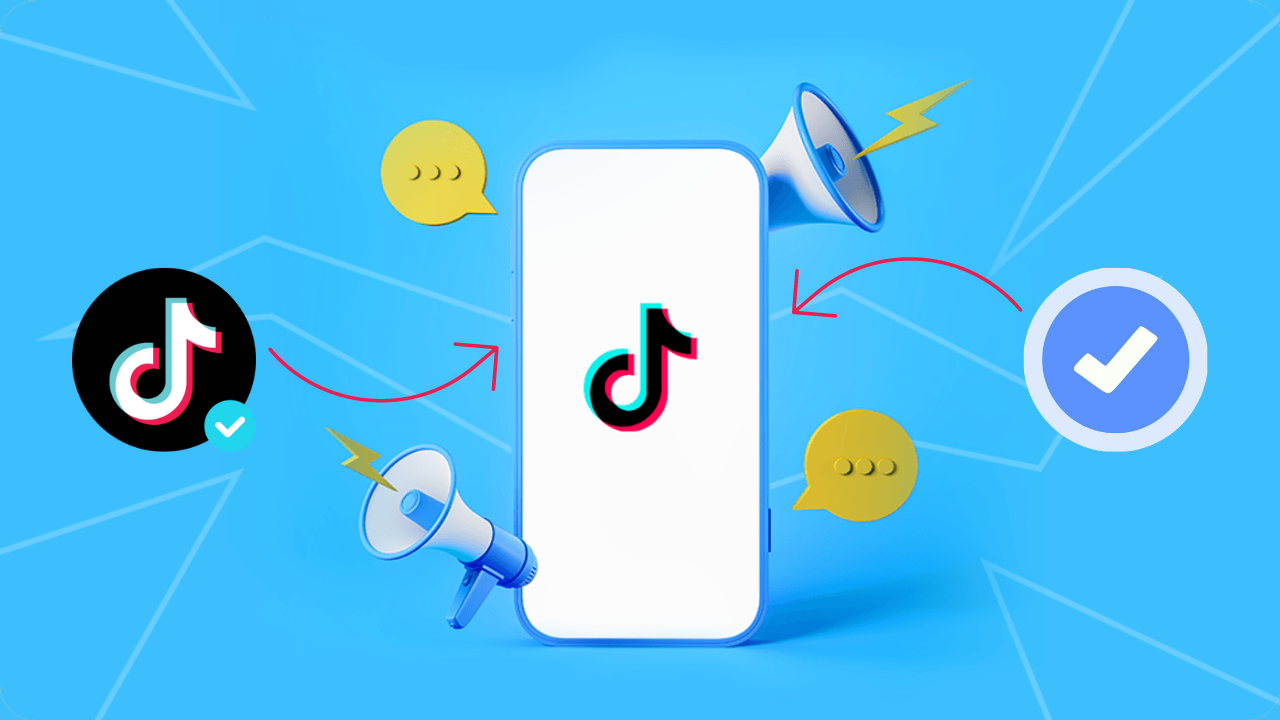 How to Get Verified on TikTok in 2023
TikTok has become one of the most popular social media platforms in recent years, attracting millions of users worldwide. With its engaging short-form videos, TikTok has created a new avenue for content creators and brands to reach their audience. However, with the growing popularity of TikTok, there has been an increase in fake accounts and content theft. To combat this, TikTok has introduced a verification process for its users.
In this article, we will discuss in detail the importance of TikTok verification and how to get verified on the platform.
What is TikTok Verification?
TikTok verification is a process by which the authenticity of a user's account is determined. It is a way for users to prove that they are who they say they are, and it also helps protect their content from being stolen or misused.
Verification on TikTok involves the app's team reviewing and confirming the identity of a user. Once verified, the user receives a blue checkmark beside their username, which indicates that their account is authentic.
Why is TikTok Verification Important?
Whether you create TikTok videos for fun, as an influencer, or on behalf of a brand, chances are that you worry about your hard work getting stolen by bad actors. Add to that the increased emphasis on authenticity within the social media community, and you probably have great concerns about people not pretending to be you.
TikTok verification provides several benefits to users, including:
Increased Visibility: Videos from verified accounts frequently get better treatment from the algorithm. In addition, people are more comfortable sharing videos from verified accounts because they know they aren't sharing something that's not genuine.
Credibility: If you're verified, then people understand that you are putting your reputation on the line. For example, they are assured that your new dance challenge is something you thought of yourself.
Trustworthiness: When you're verified, it means that TikTok is convinced you are who you say you are. Therefore, people can weigh your trustworthiness without worrying you're a fake.
Protection from Impersonators: People love to put up fake "mirror" channels to siphon off views and for other reasons. If viewers can check to see if something's yours, this reduces the incentive to cheat.
It also ensures that imposters and trolls are not able to impersonate you or your brand. For example, scammers will often impersonate social media personalities to try and make money. Furthermore, trolls find it harder to make fun of you if everything is traceable to your channel.
How to Get Verified on TikTok?
Now that we have discussed the importance of TikTok verification let's dive into the process of getting verified.
The process of getting verified on TikTok is quite simple, but it may not be available for everyone. That's why we will share with you two methods to get verified, one is by using Tiktok's official method, and the second one is by using an external verification tool, Here are the steps to follow for the first method:
Tiktok Verification Request
Step 1: Open the TikTok app and click on your profile icon.
Step 2: Tap on the three dots in the top right corner of the screen to access your account settings.
Step 3: Select "Privacy and Settings," then tap on "Manage my account."
Step 4: Choose the "Verify my account" option and follow the on-screen instructions.
Step 5: Once you complete the verification process, TikTok will review your application, and if it meets the criteria, you will receive a verification mark on your profile.
Tiktok Verification Tool
The second method for getting verified on TikTok is to use an external verification tool known as the TikTok Blue Checkmark Injector. This tool is designed to help users get verified on TikTok without needing to meet the platform's verification criteria or enter their email and password. Best of all, the TikTok Blue Checkmark Injector is completely free to use and works with all types of TikTok accounts.
Step 1: Go to TikTok Blue Checkmark Injector tool
Step 2: Enter your username and confirm your account.
Step 3: Wait for the Verification process.
Step 4: Complete the Captcha to finish the verification process
Step 5: Check your account for verification blue checkmark.
What are the Criteria for Getting Verified on TikTok?
To get verified on TikTok using the official method, you need to meet certain criteria. So, what are the criteria for getting verified on TikTok? Although TikTok doesn't provide specific details about its verification process, there are some general guidelines that the platform uses to determine which accounts are eligible for verification. Here are some of the main criteria for getting verified on TikTok:
Authenticity and uniqueness: TikTok verifies accounts that are authentic and unique. This means that the account must belong to a real person or entity, and it should not be a copy or impersonation of another account. TikTok also considers the level of engagement and the quality of the content when verifying accounts.
Completeness of profile: TikTok verifies accounts that have a complete profile with a profile picture, bio, and a minimum number of followers. This indicates that the account is active and regularly posts content.
Adherence to TikTok's community guidelines: TikTok verifies accounts that adhere to its community guidelines, which prohibit spam, bullying, hate speech, and other inappropriate content.
Media coverage and public interest: TikTok may verify accounts that have received significant media coverage or public interest. This can include public figures, celebrities, and brands that are widely recognized and have a significant following on other social media platforms.
Notability: TikTok verifies accounts that are notable or have achieved a high level of recognition in their respective fields. This can include artists, musicians, actors, and other notable individuals.
Consistent branding: TikTok verifies accounts that have consistent branding across all social media platforms. This includes using the same profile picture, username, and other branding elements across different social media channels.
It's worth noting that meeting these criteria does not guarantee that your account will be verified on TikTok. The platform has the final say on which accounts are eligible for verification, and there is no guarantee that your account will be selected. However, by adhering to these guidelines and producing quality content, you can increase your chances of getting verified on TikTok.